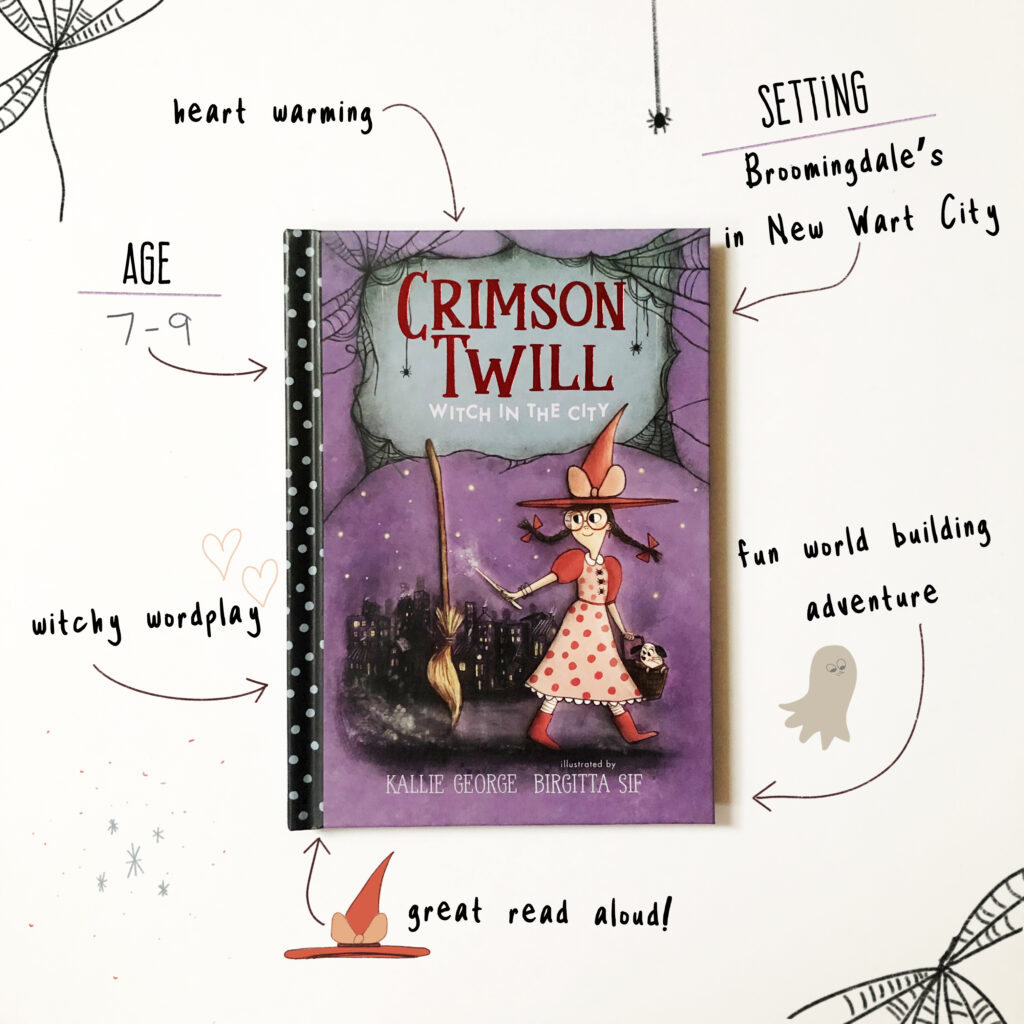 Title Crimson Twill: Witch in the City
Author Kallie George
Age Recommendation 7-9
Published by Penguin Random House

Find it on:
A bewitching chapter book perfect for the season.


Crimson Twill is a unique young witch. She prefers polka dots and colour to black and a bow to adorn her pointy hat.
Crimson is headed from her home in the Cackle Country to New Wart City to shop at Broomingdale's for the very first time with a list and extra money she has saved for something special.

Her list:
One Cauldron
Five potion bottles
Broom Basket (large)
Slug Spaghetti noodles
Wicked Dreams Pillowcases
Wand rack
Her visit quickly becomes an adventure with a talking elevator that has sensitive buttons, finding a puppy on the cat floor of Broogindales, a stray broom that just can't stop cleaning. On the hat floor, Crimson finds something special, perhaps something she has been saving for!
With fun, witchy wordplay, and onomatopoeia, this book is begging to be read aloud.
Crimson is a big-hearted character unafraid to be herself, this book will put a spell on young readers. A charming and cozy story that has a great message.
Birgitta Sif's illustrations are the perfect complement to the story. With Sif's unique and charming style, readers will spend time taking in the details of each illustration. From double-pointy hats to cute little ghosts that float across the spreads, Sif has created a bewitching world full of diverse witches.
We're big fans of Kallie George's work in our home. She has a magical element to all her writing, our first introduction was The Magical Animal Adoption Agency and The Heartwood Hotel series; we're excited to see what Kallie has in store for Crimson's next adventure.
Find more Early Reader/Chapter books here.