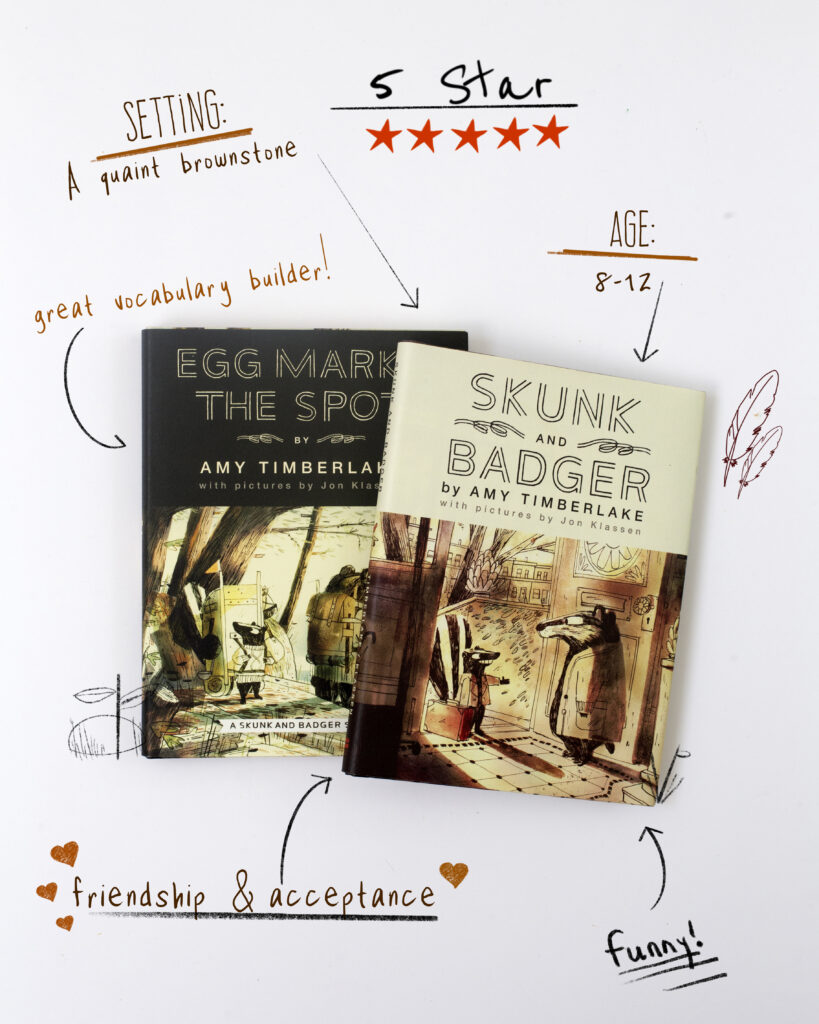 Title Skunk and Badger series
Author Amy Timberlake
Illustrations Jon Klassen
Age Recommendation 8-12
Published by Algonquin
"fastest way to win a kingdom is by being kind and gentle instead of using violence and cruelty."
Find it on:
Skunk and Badger seriesIn the first book, Badger is happy living alone in his aunt's brownstone. It's quiet, and he can do his important rock work. Badger is surprised when a guest arrives at his door. Skunk will stay as a guest, as Aunt Lula suggested in a letter – that Badger forgot to read. He is most unhappy about sharing his space, and Badger is a terrible house host. He offers Skunk the closet, but cheery Skunk can't be detoured by Badger's unfriendliness.
Skunk, to Badger's dismay, settles in a room. Most unhappy, Badger wakes the next day to delicious smells from the kitchen. He's forgotten about pesky Skunk until he sees the kitchen. It's a mess. It's not at all how Badger keeps things, but his grumbling stops with one bite; Badgers' breakfast is delicious.
In the second book: Skunk convinces Badger to undertake a rock-finding expedition. With Badger, getting ready takes much longer than planned, and things don't go exactly as expected. The trip begins well enough with a walk beside Endless Lake and then into the woods, where a waterfall fits the bill for Important Rock Work.
Illustrated by Jon Klassen, mostly black and white illustrations with a few colour spreads. Klassen gives pure magic through his textures and adorably unique character designs.
Newly independent readers will enjoy the Skunk and Badger series, build on their vocabulary, and, like us, they won't be able to wait to see what these two friends are up to next. Make sure you pick up this series; it's sweet and fun, an unlikely friendship with remnants of Frog and Toad.
We hope to see book #3!